After being involve in a scandal last 2013 the comedian Wally Bayola was not seen anymore on his regular portion with Jose Manalo and Paolo Ballesteros in Eat bulaga. But this February 08, 2014, Saturday Wally Bayola is back to the noontime show.
After 5 months of being unseen on screen, Wally Bayola's come back has been awaited by avid viewers of Eat Bulaga and solid fans of their tandem Jose-Wally. Last December rumors scattered that he will be back soon but that didn't happen. Bossing Vic Sotto also stated that he was open in Wally's come back if he would make a public apology.
Yesterday, Friday a very interesting teaser of Eat Bulaga regarding a piece of broken heart on the hand of Jose Manalo was out. The teaser had given clues about that someone who's holding the other piece of broken heart to make it whole. Many people reacted on social media and take their guess' .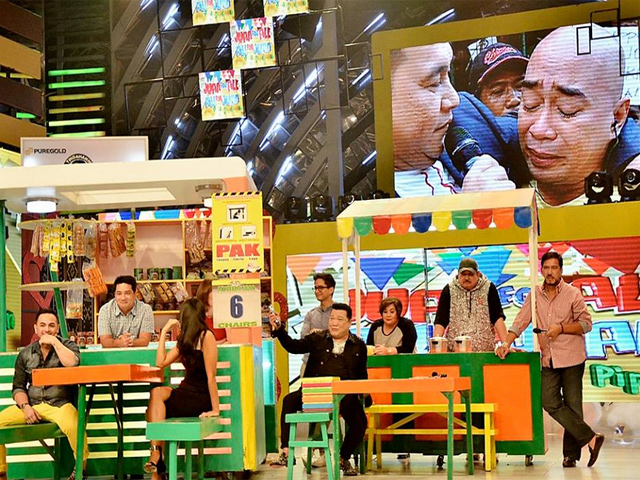 Photo credits to Eat Bulaga's Facebook Fanpage posted this Feb. 08,2014



This Saturday on one of Eat Bulaga's segment " One for all, All for one " together with the searching of Jose Manalo's lost piece of broken heart . Paolo Ballesteros brought Wally Bayola to Jose while holding a Birthday cake. Teary eye's and facedown, he hug Jose Manalo and greeted him a Happy Birthday. Wally Bayola in front of the camera repeatedly apologize for his mistakes and for what he have done.
A shower of likes and comments upon posting the photo above on their page with only an hour.
The photo captioned :
"Kasabay ng ating pagbati ng maligayang kaarawan kay Dabarkads Jose, batiin din natin ang pagbabalik ng ating Dabarkads na si Wally Bayola! Welcome Back Dabarkads!"
Dabarkads Wally Bayola is Back on Eat Bulaga !
-----
I was not expecting this upon watching Eat Bulaga awhile ago, I haven't seen the teaser and unaware of the happenings in Eat Bulaga because I'm always at school. When I opened the television I really thought it was just a replay like what they always do but seeing it live makes me think that yeah, Wally is really there. Back in the game again. I didn't watched the first portion so I search it on Youtube and putted the linked below if you too haven't watched it yet. I had teary eyes after watching. I'm happy for him .
Everybody commit mistakes, For me he's forgiven already by the people.
For more information see :
http://www.youtube.com/watch?v=h8JUuSZsD08
http://www.gmanetwork.com/news/story/347563/showbiz/wally-bayola-emosyunal-sa-pagbabalik-sa-eat-bulaga